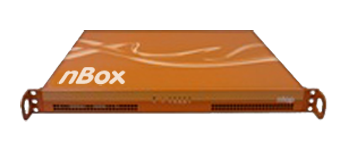 nBox NetFlow
An Embedded NetFlow v5/v9/IPFIX Probe
---
Many software netflow solutions (such as nProbe) users, realized that running a probe on a PC (or any other common hardware) is not always the best choice for several reasons:
PCs have moving parts that can break making the probe unavailable.
PCs are large, need monitors and keyboards, whereas probes often need to be deployed on places where there is not much space available.
Administering PCs is not cheap and they require the purchase of an OS, its installation and maintenance.
In large networks divided in several trunks it is necessary to have several probes each analyzing a trunk.
This requires that multiple hosts running nProbe are deployed across the network.
The cost (for both hardware and maintenance) is not neglectable in particular if several probes need to be deployed.
If you're a user that does not want to bother with installing software probes on a PC or that wants to have an hardware-based, scalable and purpose-built solution then you are probably a nBox user where you have a low-cost small factor computer with no moving parts and nProbe on board easy to administer using the embedded web interface.
---
Open Source Technologies

nBox relies on Open Source high-performance technologies for capturing and processing traffic, including our PF_RING framework and our nDPI Deep Packet Inspection framework, delivering Line-Rate packet processing up to 100 Gbit/s.
---
High Performance, Small Form Factor

Our nBox NetFlow and Recorder appliances are able to process up to 100 Gbps fully leveraging on multi-core architectures to scale with the performance, and fit in 1U form factor rackmount.
---
Main Features
---
The nBox NetFlow appliance is based on the nProbe (up to 10 Gbit) and nProbe Cento (up to 100 Gbit) softwares, please refer to the nProbe and nProbe Cento product pages, and the documentation of nProbe and nProbe Cento for further information about supported features.
User Interface
---
The nBox UI is based on Cockpit. The pictures below show the nBox NetFlow/IPFIX Web user interface.
Available Models
---
The nBox is available as physical appliance in various models. All models:
19″ Rack-mount
Use SSD as storage for no drops.
Operate at line rate with minimal packet size
All models are Dell-based and include up to 3 years on-site hardware guarantee.
Additional software and hardware options available on demand.
nBox
Form Factor
Monitoring Capabilities
Monitoring Port Options
Software

L

1U
Up to 2.5 Mpps
PF_RING ZC
nProbe Pro/ntopng Pro

M

1U
Up to 8 Mpps
PF_RING ZC
nProbe Pro/
ntopng Ent L

H

1U
Line Rate
PF_RING ZC
nProbe Pro/
ntopng Ent L

H10/25/40

1U
Line Rate

2 x 10/25/40 Gbit Copper/(Q)SFP

PF_RING ZC
nProbe Cento M/
ntopng Ent L

H100

1U
80+ Mpps
PF_RING ZC
nProbe Cento M/
ntopng Ent L
Credits
---
NetFlow is copyright Cisco Systems.
Get It
---
Please contact us for details, price and availability, or get in touch with our resellers.