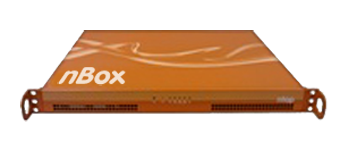 nBox
An Embedded NetFlow v5/v9/IPFIX Probe (IPv4, IPv6, MPLS)
---
Many software netflow solutions (such as nProbe) users, realized that running a probe on a PC (or any other common hardware) is not always the best choice for several reasons:
PCs have moving parts that can break making the probe unavailable.
PCs are large, need monitors and keyboards, whereas probes often need to be deployed on places where there is not much space available.
Administering PCs is not cheap and they require the purchase of an OS, its installation and maintenance.
In large networks divided in several trunks it is necessary to have several probes each analyzing a trunk.
This requires that multiple hosts running nProbe are deployed across the network.
The cost (for both hardware and maintenance) is not neglectable in particular if several probes need to be deployed.
If you're a user that does not want to bother with installing software probes on a PC or that wants to have an hardware-based, scalable and purpose-built solution then you are probably a nBox user where you have a low-cost small factor computer with no moving parts and nProbe on board easy to administer using the embedded web interface.
If you want to know more in detail how the nBox works from user's prespective, you can go through the documentation section.
User Interface
The following figures shows you the nBox NetFlow/IPFIX web user interface.
This slideshow requires JavaScript.
Credits
NetFlow is copyright Cisco Systems.
Available Models
The nBox is available as physical appliance in various models.
nBox
Form Factor
Monitoring Capabilities
Monitoring Ports
Software
Entry Level
Desktop
Up 100 Mbit
2 x 1 Gbit Copper
ntopng
[ Info ]
Mini
Desktop
Up 500 Kpps
1 Gbit Copper
nProbe
ntopng
L
1U 19″ rackmount
Up to 2.5 Mpps
1 Gbit Copper
PF_RING ZC
nProbe Pro
ntopng
M
1U 19″ rackmount
Up to 6 Mpps
1 Gbit Copper
(Optional: 2x 1 Gbit Copper ZC or 2x 10 Gbit Fiber ZC)
PF_RING ZC
nProbe Pro
ntopng
H10
1U 19″ rackmount
More than 10 Mpps
1 Gbit Copper ZC
(Optional: 2x 10 Gbit Fiber ZC)
PF_RING ZC
nProbe Pro
ntopng
Please contact us for details, price and availability, or getting touch with our nBox partners (A-Z):